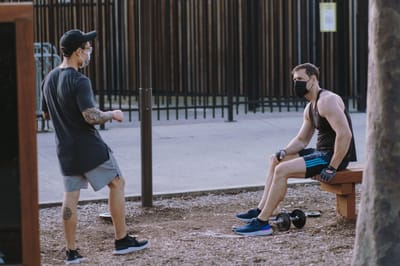 The Hoya Lawya Runners Executive Board is committed to offering our members safe and enriching fitness experiences. In line with CDC guidelines and orders by D.C. Mayor Muriel Bowser, we will not be offering in-person group runs for the foreseeable future. Our organization recognizes the tremendous benefits of running on physical and mental health, and we are committed to creating opportunities for our members to stay active during the COVID-19 pandemic. We will be offering weekly workouts to be completed on your own as well as free at-home fitness resources. Shoot us pictures or a message about your latest workout, and we will feature you on our site!
According to the World Health Organization, "...taking a short break from sitting, by doing
3-4 minutes of light intensity physical movement
, such as walking or stretching, will help ease your muscles and improve blood circulation and muscle activity.
Regular physical activity
... can reduce high blood pressure, help manage weight and reduce the risk of heart disease, stroke, type 2 diabetes, and various cancers -
all conditions that can increase susceptibility to COVID-19
,". Now, more than ever, it is important to prioritize your physical and mental health. Connect with Hoya Lawya Runners, and let us help you practice self-care through exercise!